PUPUS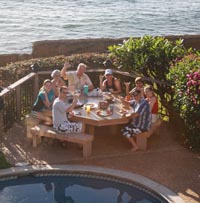 Most Thursday evenings at 5:30 pm, our Hoyochi Nikko Managers, Allyn & Melody Dean, bring pupus (appetizers) to the table by the pool.
Bring at least your own drink (and maybe some of your own pupus), enjoy the conversation and watch the sun go down.


CONDO Rules
Mahalo (thanks) for following them
Parking is assigned, one spot per unit. The spot for 205 is the first one on the right in the underground garage. Tall SUVs (those over 65 inches) are not permitted as they do not fit into our underground spot. No motorcycles are allowed.
Smoking is not permitted in the unit. Smoking is permitted only outside, at the northwest corner of the property. Please use the ashtrays or sand filled saucers provided.
Please don't put your luggage on the beds. That red dirt really stains!
Every evening, please put your garbage out in the dumpster by the road. There are green garbage cans at the south end of the underground garage for recycling metal cans, plastic and glass. Please don't leave food out. Food and garbage attract creepy crawlies.
The washer and dryer are provided for your convenience. Please keep sand and bleach out of the machines.
Beware of facial cleansers. Some of them create a permanent yellow stain on our towels -you'll be charged for any that are ruined.
You are welcome to use the BBQs. Please keep them tidy for the next guest.
Lanai (balcony): no hanging towels, no storing sports equipment and no bird feeding (they make a mess).
Please double lock the door when you leave for an extended period.
Music and TV sounds should be contained within your unit. Please use earphones poolside.
If you are wearing sunscreen or that wonderful red Maui dirt, please protect the furniture with a clean towel (blue ones are provided in the basket). They're easier to clean than furniture.
Please be quiet if you return after 9 pm or get up and out before 9 am. Everyone's on a different time change.
People in 105 (below us) sometimes complain about hearing elephants in our unit. If you see one, please report it to our Managers.
Check in time is 4 pm; check out time is 11 am. On your last day, before you leave, please start the dishwasher and take out the garbage.